<!- mfunc search_box_body ->
<!- /mfunc search_box_body ->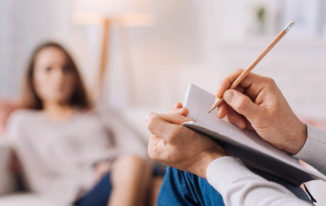 What is a Master's in Psychology? A master's in psychology is a two-year post-bachelor's degree that delivers advanced, specialized training in mental and behavioral health, and is typically used as preparation for state licensure in counseling and therapy, but does not meet the requirements for a full psychologist license.
Graduate school is where the world of psychology starts really taking shape, and where the many different career paths start to become more defined. It represents the time you transition from a general exploration of psychological concepts and principles to really start mining the depths of the psyche for a deeper understanding of what motivates and influences the way people think, feel and behave.
Graduate school also is where you get the opportunity to have more agency over your education by selecting a concentration in the area of practice you find most intriguing, and where you'll have a chance to explore that area through research and describe your thoughts and findings in an original thesis.
<!- mfunc search_btn -> <!- /mfunc search_btn ->
All your curiosity, experience and previous education come to bear on your graduate studies. Finding a program where you feel completely comfortable and supported in your development is an extraordinarily exciting process in itself, and one that every psychology student looks forward to. As you consider everything from the different institutions you could attend to the particular focus of the program you want to enroll in, you will find this early exploration of your graduate-level education options is really where a lot of the learning starts.
<!- mfunc feat_school ->
Featured Programs:
Sponsored School(s)
<!- /mfunc feat_school ->
Top online Master's in Psychology Degree Programs
Top 15 Online Master's in Counseling Degree Programs
Careers and Salaries for Individuals with Master's in Psychology Degrees
If you are going for a terminal degree and full authority licensure in psychology, then a master's degree represents a big step in that direction. And the master's you select today can do a lot to lay the groundwork for the PhD or PsyD you end up earning in the years ahead. Just as much as you consider what you want from your career, you need to think in terms of the talents you have and how you could contribute the field. It makes sense to look ahead at some common career paths to find which ones would make the best use of those talents:
1. Psychiatrists: Psychiatrists work in hospitals, physician's offices, outpatient care centers, rehabilitation centers, schools and correctional facilities. The average salary for psychiatrists in all practice settings was $220,380 per year in 2019. Those who found work with home health service providers earned $253,370 on average that year, making it the top-paying practice setting.
2. Industrial-Organizational Psychologists: These professionals can be found everywhere from colleges, to corporate offices, to industrial production plants, warehouses and shipping and receiving hubs where they work to improve worker safety and productivity. In 2019, industrial-organizational psychologists earned an average of $111,150 while the top 10% in the field earned more than $197,700.
3. Neuropsychologists: Neuropsychologists work in colleges, hospitals, research centers, mental health clinics, law enforcement agencies and correctional facilities. Their main role is to study the biomechanics of brain function.
4. Engineering Psychologists: The main role of an engineering psychologist is to ensure that both equipment and systems operations are working efficiently in facilities that offer psychiatric care.
5. Clinical Psychologists: Clinical psychologists provide support, counseling, and treatment services to individuals who are suffering from mental illnesses. Clinical psychologists working in psychiatric and substance abuse hospitals earned an average of $86,350 in 2019, while those in outpatient settings earned $99,870 that year.
6. School Psychologists: These professionals work in schools, colleges and universities. Their main role is to provide support, counseling and treatment services to individuals who are suffering from mental illness, educational problems, peer bullying and family-related issues. In elementary and secondary schools, psychologists earned an average of $80,180 per year as of 2019, while in junior colleges they earned $96,930.
May 2019, U.S. Bureau of Labor Statistics salary and job growth estimates for psychologists; clinical, counseling and school psychologists; I/O psychologists; psychiatrists; and psychologists in all other disciplines are based on national data, not school-specific information. Conditions in your area may vary. Data accessed November 2020.
How to Find the Right Master's in Psychology Programs
Provided below is a list of accredited schools that are widely recognized for offering some of the best master's in psychology degree programs available in the United States.
1. Stanford University: This school offers a co-terminal Master's in Psychology Degree program to qualified individuals. This program is unique in that it allows students to pursue both a Bachelor's in Psychology Degree and a Master's in Psychology Degree in one program. This Master's of Arts in Psychology Degree program consists of 45 credits and it is ranked as the best Master's in Psychology Degree program by U.S. News. The tuition cost for this program is $13,750 per 11-18 credits.
<!- mfunc search_btn -> <!- /mfunc search_btn ->
2. New York University: NYU offers a Master's in Psychology Degree program to individuals who possess at least a Bachelor's Degree. The program consists of 36 credits and it is accredited by the American Psychological Association. The tuition cost for this program is $1,437 per credit.
3. Keiser University: Keiser offers one of the best online Master's in Psychology Degree programs to individuals who possess at least a Bachelor's Degree. Keiser University is accredited by the Commission on Colleges of the Southern Association of Colleges and Schools. The tuition cost for the entire program is about $27,000.