<!– mfunc feat_school –>
FEATURED PROGRAMS
SPONSORED LISTINGS
SNHU
Online bachelor's and master's programs in Psychology with the option to focus in Addictions, Applied Psychology, Child & Adolescent Development, Forensic Psychology, Mental Health, Social Psychology, or I/O Psychology.
Grand Canyon University
Degrees in Psychology & Counseling
Purdue University Global
Master of Science in Psychology
Walden University
Online MS in Psychology
Capella University
Online programs include a BS in Psychology, as well as Master's, PhD, and PsyD programs in over a dozen specialty areas.
Liberty University
Master of Arts in Pastoral Counseling
<!– /mfunc feat_school –>
<!– mfunc search_box_body –>
<!– /mfunc search_box_body –>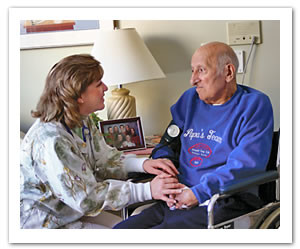 Geropsychologists are in demand, and knowing how much you can earn with a Master's in Geropsychology is extremely important before you select which graduate program you would like to complete. If you are currently studying for a Bachelor's or looking for a post-graduate growth area in psychology that is showing promise, it is important to learn about all of the options that are available to you. Geropsychology is projected to be a highly demanded practice area that caters to the unique needs of those who are aging. Aside from learning about the projected salary in the area of practice, you should learn what some of the many career options are. Read on, and learn about the job profile and what your earning potential will be to make an educated decision.
What Are the Responsibilities of Geropsychologists?
Geropsychology is an interdisciplinary area that focuses on several different issues that the aging population deals with on a daily basis. Some of the issues include: anxiety, depression, relationships, medical conditions, mental capacity, and poverty. Since there are so many different issues that are covered by geropsychologists, there are several different career options. Each occupation has its own list of duties and responsibilities.
If you were to work as a geropsycholigist with a public agency like Veterans Affairs, you can expect to wear multiple hats. You might perform cognitive health assessments, conduct therapy sessions with your patients, consult families and also teach the trainees in your department. For those who work in a legal-focued role, professionals in the field will collaborate with lawyers on whether or not older adults have the mental capacity to represent themselves or to be rehabilitated.
What is the Projected Earnings Outlook of Geropsychologists?
Everyone who attends college is attaining skills that they can use following graduation to develop their professional careers. It can cost a great deal of money to pay for a graduate degree and this is why it is your duty as a prospective graduate student to research what the actual salaries of geropsychologists are today. It can also be helpful for those interested in specializing their degree to compare the geropsychology salary to that of a generalist.
The average psychologist earns $68,640 in the United States. Out of psychologists as a whole, specialists who have earned a degree in a specialization area like geropsychology have been reported to earn a median wage of $89,900. How much you will actually make depends on your level of education and experience. Entry-level professionals who work in nursing homes or rehabilitation centers might make a low salary of $39,200, whereas professionals with doctorate degrees qualified to work in hospice can make upwards of $111,000 per year.
When considering all of the occupational avenues and highways that you can travel, you need to consider what the road ahead looks like. The Bureau of Labor Statistics has estimated that the demand for geropsychologists will grow by 18 percent by the year 2020 as the aging population grows. This is much faster than the average growth for all careers in the nation. Be sure to review the salaries reported for entry-level professionals with a Master's in Geropsychology and estimate how much you can earn after spending 6 years attending college.