<!- mfunc search_box_body ->
<!- /mfunc search_box_body ->
<!- mfunc feat_school ->
Featured Programs:
Sponsored School(s)
<!- /mfunc feat_school ->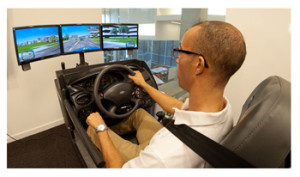 Human Factors Psychology can tell you why the "capture" button for your cell phone camera is not on the top. They also know why the desk chair in your office may have a funny bend in the seat, or even why offices and schools are turning to stand-up desks. In fact, human factor psychologists probably had a hand in designing the instruction booklet for hooking up your new flat screen HD television set. You see, all these things concern how things work best for humans.
What is Human Factors Psychology?
Simply put, it is the research, the discovery and the application of "human" things that affect the way we interface with our environment. These psychologists research human behavior and limitations, our preferences and abilities, then use that research to design products and services that make life more enjoyable, safer and easier. The American Psychological Association says this includes our relationships with other people, the relationship between people and machines, people and tasks and people and their environments. The discipline began after WWII, when a team of psychologists worked to make airplanes safer. The principle at work is that "the best products are those that have been tested in the real world by humans. For instance, consider the question of whether it is safer to use a hands-free phone or to manually dial your cell phone while you are driving. Is the biggest safety concern the attention you give to punching the right buttons, or is it the diversion of speaking the number? What makes this type of psychology different from others is that the focus of the discipline is on the application.
<!- mfunc search_btn -> <!- /mfunc search_btn ->
What Education is Needed?
A master's degree is the minimum education you may have for positions in this field. With that degree, you may work in research and development but you will be supervised by a doctoral-level professional. The best plan is to get your bachelor's and master's degree in psychology and then pursue your doctor's degree, either a PhD or a PsyD, with specializations. You may specialize in a great number of areas including: human-computer interaction; cognitive engagement; usability; user experience engineering, product design and error prevention, among others. The doctoral degree may be pursued online, but most of these programs involve a lot of supervised field experience as well as coursework. Every state requires psychologists to be licensed, and this requires that you pass the Examination for Professional Practice in Psychology. Most of the licensing requirements also require a certain amount of professional experience before you are granted a license, and that you earn continuing education credits on a regular basis.
Where Do they Work?
Human factor psychologists work in government jobs like OSHA and for the Federal Aeronautics Board. They are employed by corporations to design and develop new products. They are also found in universities and research foundations. They work for automobile manufacturers, studying how drivers interact with the controls inside the cars. Hospitals hire them to design operating rooms that are less taxing and safer. According to the Bureau of Labor Statistics, wherever they work their median salary is $71,000 per year. The Bureau of Labor Statistics lists psychologists as a whole, but says that Human Factor Psychologists are in a "hot growth" area right now.
Related Resource: Experimental Pscyhology
<!- mfunc search_btn -> <!- /mfunc search_btn ->
Working as a psychologist in this field requires a commitment to many years of schooling and gaining experience. If you are considering a career as a research psychologist, a career in Human Factors Psychology may be right for you.