<!- mfunc search_box_body ->
<!- /mfunc search_box_body ->
<!- mfunc feat_school ->
Featured Programs:
Sponsored School(s)
<!- /mfunc feat_school ->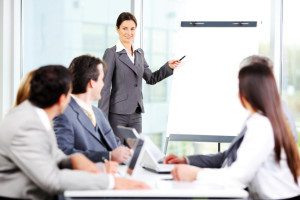 Industrial and organizational psychology is a specialty field in which psychologists use psychological principles and research methods to improve the quality of work environments. They solve problems such as employee morale, employee or management work styles, and workplace productivity as well as work with management on organizational development, planning policies, and screening or training employees. Due to their range of abilities, there are many career paths available to industrial-organizational or I-O psychologists with bachelor's, master's or PhD degrees.
1. Industrial-Organizational Consultant
As consultants, Industrial-Organizational psychologists may be employees of firms that specialize in industrial-organizational issues, such as human resources and management psychology consulting firms, or they may be sole proprietors and consult with firms on a case-by-case basis. I-O consultants provide expertise in the areas of: benefits and compensation, career planning, changes in management, development and training, employment law, evaluation and testing, executive coaching and leadership, recruiting and selection, and talent and performance management. They offer recommendations on these matters based on research findings and best practices within the industry.
2. Behavioral Analyst
The main role of Industrial-Organizational psychologists as behavior analysts is assessing the behavioral problems of employees, with a focus on observable and measurable conduct, and implementing strategies to eliminate unacceptable conduct in the workplace, according to Study.com. They may work in a research capacity, studying employee behaviors and what influences those behaviors to find methods of solving behavioral problems. Some of them may not personally conduct the research but analyze psychological research data to create technical reports that interpret and quantify performance, product and retention findings to improve workplace behaviors.
<!- mfunc search_btn -> <!- /mfunc search_btn ->
3. HR Organizational Development Specialist
Human resources organizational development specialists maximize workplace efficiency by understanding the goals, strategies and systems of a company and applying the principles of behavioral science. They create, implement and manage programs that assess the existing and potential needs of a company in regard to employee and organizational development. This includes the development or supervision of training programs that emphasize corporate objectives and business needs, that strengthen employee abilities and knowledge, and that improve leadership. In this career path, I-O psychologists may also help companies adjust to the management changes that occur during corporate reorganizations or mergers.
4. Senior Research Consultant
As senior research consultants, I-O psychologists are very skilled in all aspects of market research and help with designing research projects and processes. They are responsible for coordinating project steps with focus groups, project teams and other staff, and they might manage several projects within a certain budget. This may also involve managing research projects with nonprofit organizations, universities or outside businesses. Following these projects, senior research consultants interpret the results and give recommendations based on the findings. This could even go as far as preparing research articles for conferences or journal publications.
5. Talent Management Specialist
In the position of talent management specialist, I-O psychologists develop and implement strategic initiatives that enhance the performance of talented employees and leaders as well as prepare for the future talent needs of a company, according to the Society for Industrial and Organizational Psychology. To achieve this, talent management specialists may: facilitate meetings with management to pinpoint current and future talent needs; design a succession plan and train management on the process; assess the competencies of employees to identify which employees have the abilities, knowledge and skills to fill important roles; help management choose the best candidates; and support the chosen candidates throughout the transition.
<!- mfunc search_btn -> <!- /mfunc search_btn ->
With this wide range of career paths, I-O psychologists may work in human resources or business offices at consulting firms, private research organizations, or state or federal agencies, according to the Bureau of Labor Statistics. In 2014, the median annual wage for psychologists in this specialty was $75,000 or more.